> Home > >
03 - Enea Silvio incoronato poeta dal'imperatore Federico III
Siena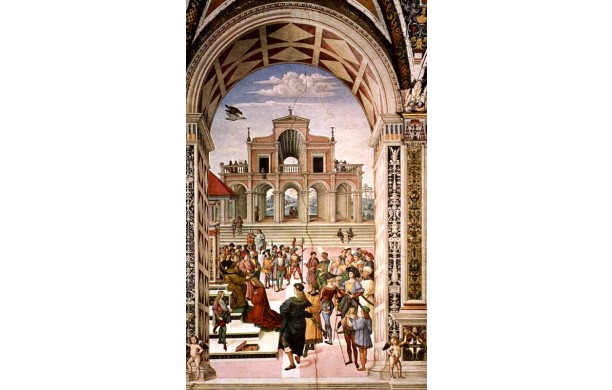 Artist: Pinturicchio
Year: 1503 - 1507
Current location: Biblioteca Piccolomini
Original location: Biblioteca Piccolomini

DESCRIPTIVE INFORMATION
The Piccolomini was sent dall'antipapa Happy V at Aachen to pay homage to the newly elected Emperor Frederick III. At his court Enea Silvio enjoyed great prestige, getting the position of prothonotary well as the prestigious laurel crowned as a poet. The scene shows his own coronation, located in the center of the stage and facing the imperial throne. The ceremony takes place in a crowded square, dominated by a great palace in the background located at the top of a staircase, caratterizzatoo by arcades on the ground floor with a magnificent barrel vault on the first floor. This development is the theme of the building overlooking the central plan view used for the first time by Perugino in the delivery of the keys of the Sistine Chapel and already taken by Pinturicchio in some scenes of the Chapels buffalo and Baglioni, made previously.
03 - Enea Silvio incoronato poeta dal'imperatore Federico III