> Home > What to visit > Museums
Biblioteca Piccolomini
Siena
MUSEUMS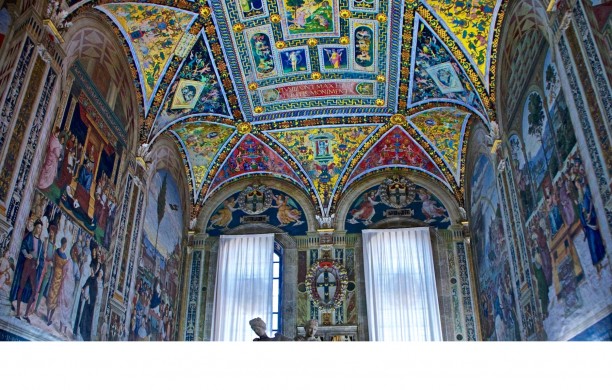 PHONE NUMBERS AND TIMES

Biblioteca Piccolomini
Piazza del Duomo 53100 Siena



Business card (vCard)
ORARI DI APERTURA E VISITA:
March 1 to November 2 10:30 a.m. to 7:00 p.m.
November 3-February 28 10:30 to 17:30
December 26 to January 6 10:30 to 19:00


The Piccolomini Library is located inside the Cathedral, along the left site. It 'a beautiful environment, that Cardinal Francesco Todeschini Piccolomini, later to become Pope Pius III, costruir made ​​between 1492 and 1495, as the venue for the rich library of family, and to celebrate the memory of his uncle Enea Silvio Piccolomini, Pope Pius II.
Some of the old rectory was converted into the new great hall, which is accessed through a door set in a rich bronze marble portal, the work of Marrina (1497). In fact this place is not never received the books of Pius II, but after the death of Pius III, was covered with beautiful frescoes by Pinturicchio between 1502 and 1509.

The frescoes, which cover the entire library, make a series of high-quality pictorial here Pinturicchio expresses the inexhaustible richness of its narrative capabilities and color. In the ten panels of the walls, you tell the episodes of the life of Pius II, while that on the portal of entry shows the coronation of Pius III.
The center of the room is occupied by the famous group of sculptures of the Three Graces, the third century Roman copy of an original greek. In the windows, below the frescoes are preserved a number of large antiphonaries, belonged to the Cathedral and the Hospital of Santa Maria della Scala.
The thumbnails of beautiful choral were realizzed by: Liberal from Verona, Girolamo da Cremona, Sano di Pietro and other.
STAY

NEARBY
DINING & ENTERTAINMENT

NEARBY