> Home > >
09 - Pio II cononizza santa Caterina da Siena
Siena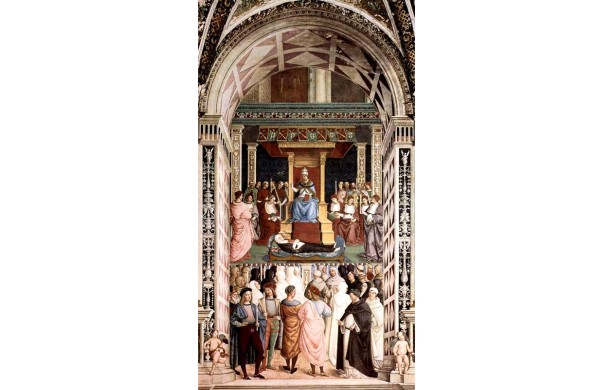 Artist: Pinturicchio
Year: 1503 - 1507
Current location: Biblioteca Piccolomini
Original location: Biblioteca Piccolomini

DESCRIPTIVE INFORMATION
The 29 June 1461 ended the long process that led to the canonization of St. Catherine of Siena. The scene represents the event is structured into two main registers overlap: one with the throne of Pius II covered by elegant grotesque and the papal seat in the body of the saint at the foot of the stairs, the other with a lower number of bystanders, prelates and laity who reggonoi candles. In the group stands the two gentlemen on the left, from clothing and sought after laying a little 'ostentatious. Tradition has it that represent the portraits of Raphael and Pinturicchio. In fact it looks very much like his self-portrait of the Baglioni Chapel in Spello. Amazingly realistic is painted behind the canopy architecture and representative of a sudden, dark and smozzicato, the ancient Basilica of St. Peter.
09 - Pio II cononizza santa Caterina da Siena