> Home > >
01 - Enea Silvio Piccolomini parte per il concilio di Basilea
Siena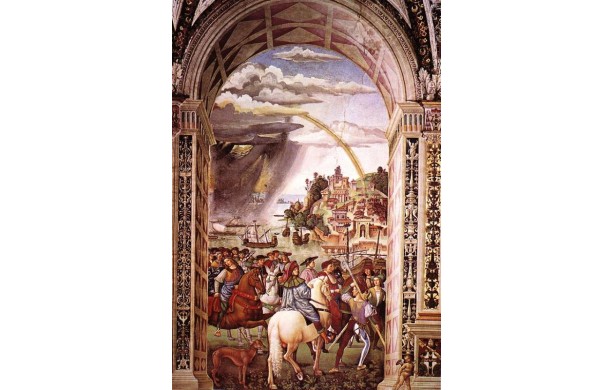 Artist: Pinturicchio
Year: 1503 - 1507
Current location: Biblioteca Piccolomini
Original location: Biblioteca Piccolomini

DESCRIPTIVE INFORMATION
The elegant gentleman in the center of the composition, which turns to the viewer, is the twenty-six Enea Silvio. The hardships of departure for the council of Basel are recorded in the Commentaries, citing the storm that took his ship between the island of Elba and Corsica, dirottandola south. These events are announced in the dark cloud on the left, but the rainbow recalls the successful landing, between Genoa and Porto Venere, and the peaceful return. Rare is the description of a weather event in Italian Renaissance painting, here dictated by narrative, which were resolved with the big black clouds that fray as rain invisible to the sea, illuminated by the flickering golden lightning. The effect of the storm on the ships is well represented on the left side, while the right side is dominated by clear weather and the view of a beautiful walled city. The group, which proceeds from left to right, shows a large amount of characters. Both riders people walking bear the signs of their rank: from the robes of a cardinal, all'alabardiere from behind the flashy clothes, the knight on the left holding a leash hound, exotic white horse with long ears up to a curious traveler with his face bandaged and a sort of umbrella for a hat.
01 - Enea Silvio Piccolomini parte per il concilio di Basilea