> Home > >
Assunzione della Vergine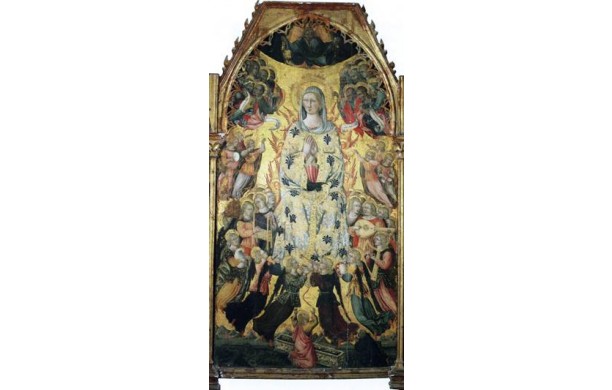 Artist: Giovanni di Paolo
Year: 1460 circa
Current location: Museo Civico Archeologico e d'Arte Sacra Palazzo Corboli
Original location: Basilica Millenaria di S.Agata

DESCRIPTIVE INFORMATION

The work is attributed to Giovanni di Paolo and is painted in tempera and gold on wood and dates back to around 1460. It comes from the church of Sant'Agata and was the central panel of a polyptych preserved at the Pinacoteca Nazionale di Siena. In the original lateral parts, San Benedetto, San Bernardo, Santa Maria Maddalena and San Galgano were represented.
Currently the altarpiece is part of a triptych reassembled around 1883 and which on its sides has Sant'Agostino and San Michele Arcangelo, painted by Matteo di Giovanni. The table has taken the place of a similar Assumption of the Virgin which was presumably sold and today is located at the National Gallery in London.
Both the London Assumption of Matteo di Giovanni and that of Giovanni di Paolo, are inspired by the Virgin of the Antiporto of Camollia, a lost fresco that stood out on the main northern entrance of Siena and that was realized, around 1330, by Simone Martini.
Assunzione della Vergine