> Home > >
014 Tarsia pavim. della navata centrale - Allegoria del colle della sapienza
Siena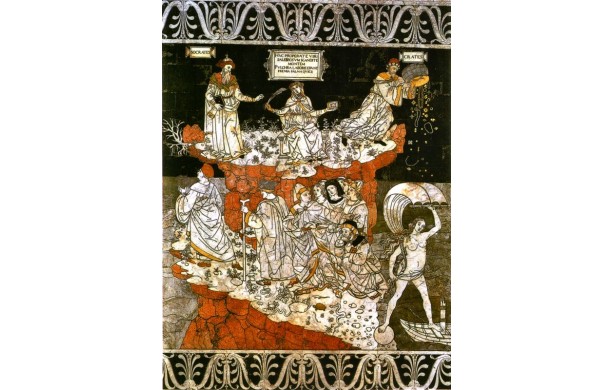 Artist: Pinturicchio
Year: 1505
Current location: Cattedrale di Santa Maria Assunta
Original location: Cattedrale di Santa Maria Assunta

DESCRIPTIVE INFORMATION
The Rector Alberto Aringhieri commissioned this scene full of characters to Pinturicchio in 1505, with the physical execution of Paolo Mannucci. Pinturicchio, which was paid on 13 or 15 March of that year, he was working at the same time the Piccolomini Library, apparently assisted by the young Raphael. The box shows a complex allegory of Fortune and Wisdom. The first is represented as a naked woman holding a foot on a sphere (symbol of volatility) and holds a cornucopia and the sail swollen by the wind, a symbol of success, rests her left foot on a boat broken tree, with the which a group of wise men came to the Hill of Wisdom, which dominates the scene. They, through a steep and studded with stones, small plants and animals, symbols of the vices, trying to reach the top of the hill where sits the Wisdom (or Quiet), bearing a book in hand and the palm of victory. On either side of Socrates, it is intended for the palm (whose suicide is seen as a martyr) and Crates, who is emptying into the sea a basket full of jewels and coins, a symbol of giving up the illusory happiness of material wealth. All around the sea looks stormy. The message of the allegory, which is already clear (virtue can be achieved but with difficulty) is also clear from the Sapienza cartouche above: Huc properate viri: salebrosum scanned montem pulchra laboris ERUNT rewards palm quies.
014 Tarsia pavim. della navata centrale - Allegoria del colle della sapienza