> Home > >
Il Ciarlatano
Siena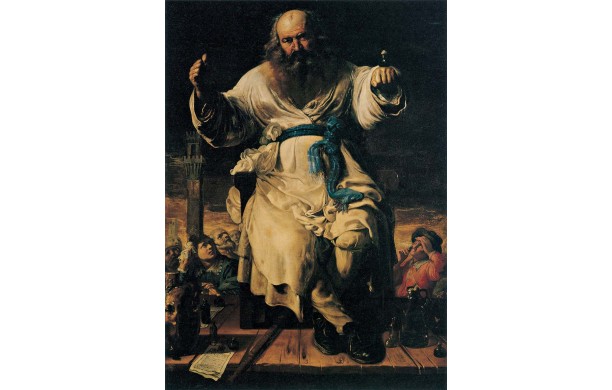 Artist: Bernardino Mei
Year: 1656
Current location: Palazzo Salimbeni
Original location:

DESCRIPTIVE INFORMATION
Purchased by the Monte dei Paschi di Siena in 1984, the painting originally belonged to the collection of Florence Gerini: lower left, above the sheet that protrudes from the stage on which sits the charlatan, appear the sign ("In Siena Bernardino Mei Painter ") and the probable date of execution of the canvas (you can imagine will be the year" 1656 "). The unusual iconography and the originality of the subject provide the modern viewer a true slice of customs, traditions and beliefs that were to characterize the social context of Siena - Siena and not only - in the middle of the seventeenth century. The old charlatan sits on a wooden stage surrounded by the "tools" of their trade, bottles and glass jars containing healing potions from unlikely. The view from the bottom seems to accentuate the grandeur of the ambiguous character whose body mass is amplified by overlapping and continuous dall'ingolfarsi countless layers of clothes. The performance of the mysterious healing takes place within the walls of the city of Siena, as the profile of the Mangia tower that is visible at the bottom, on the left of the picture. The thick beard new philosopher, look sharp, piercing and the peremptory gestures arouse fearful amazement of the crowd that gathers cautious at the foot of the stage, not everyone seems to still suffer the dark influence of the arcane character: among the onlookers stunned fits even the skeptic who, staring at the old bearded, suspicious sniffs the contents of a small vial. The adoption of a treatment luministic strongly opposed, characterized by the juxtaposition of large areas of deep shadows and bright with wrap-around help to accentuate the suspended atmosphere and disturbing that circulates inside painting, on which rests the dark mass of stormy sky.
Il Ciarlatano