> Home > What to visit > Museums
Cripta del Duomo
Siena
MUSEUMS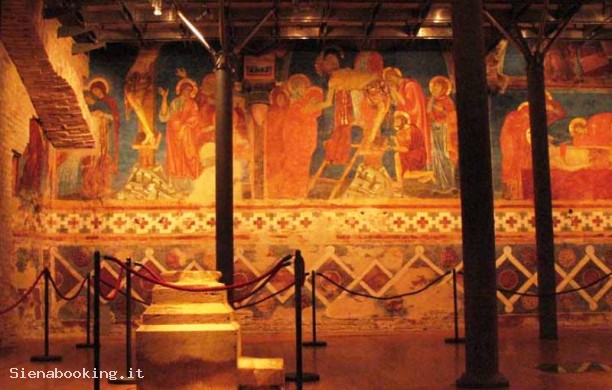 PHONE NUMBERS AND TIMES

Cripta del Duomo
Sacala di santa caterina, 53100 Siena



Business card (vCard)
ORARI DI APERTURA E VISITA:
March 1 to November 2 10:30 a.m. to 7:00 p.m.
November 3-February 28 10:30 to 17:30
December 26 to January 6 10:30 to 19:00

What is today known as the Crypt of the Cathedral, was discovered by chance in 1999 during investigations for the consolidation of the floor of the Cathedral Mariana, when near the pulpit by Nicola Pisano was noticed a disturbing dip. Trying to understand the origin was discovered precisely "the crypt".
The restaurant may have been the atrium of the ancient cathedral of Siena, earlier than today, as evidenced by the remains of the entrance with three arches which, in 1317 was incorporated into the apse of the baptistery again. On this date the baptistery was built today, after the destruction of the old one and it also provided an extension of the dome above. To achieve this, the times of the atrium were sawn and support walls were built of brick to hold the new tile floor. Following this, the local residue was filled with earth and debris, as was the custom to prevent the transport of materials resulting from demolition.
The original structure had to correspond to a closed entrance porch, in front of the facade with the entrance to the church on the side. In fact, no one knows yet exactly what this place was, the studies still in progress does not allow definite answers and questions overlap with questions unanswered.
However the restaurant is exceptional at first glance to the magnificence of the structures and decorations. The visitor is an jn virgin environment and perfectly preserved and has the privilege of observing the decorations of a medieval church as indeed they were originally. In short, the aesthetic effect of the environment is an explosion of vivid colors and dazzling, quite different from the idea that people are often gloomy and dark of medieval churches.
Beautiful in the preservation intact of colors and gold shares also the frescoes of the "Stories of Passion". Dating back to the seventies of the thirteenth century, these paintings reveal themselves surely fundamental to better understand the development of the Sienese school of painting. Undoubtedly this place and his paintings directly raised by the thirteenth century, were probably the school and the laboratory where he studied and formed Duccio and are certainly one of the major attractions that Siena has to offer visitors to read.
STAY

NEARBY
DINING & ENTERTAINMENT

NEARBY