> Home > What to visit > Churches and Monasteries
Cappella dei Nove - Palazzo Comunale
Siena
CHURCHES AND MONASTERIES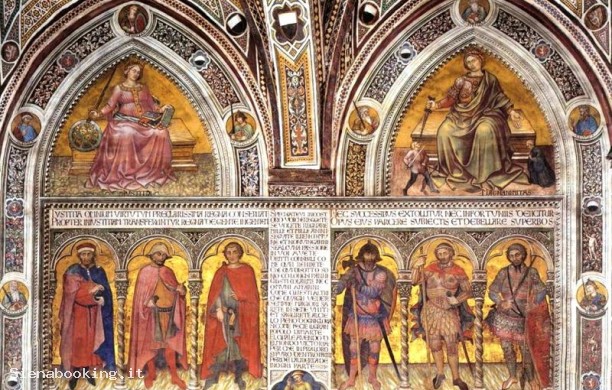 PHONE NUMBERS AND TIMES

Cappella dei Nove - Palazzo Comunale
Chapel of the Nine - Town Hall



Business card (vCard)
Following some work to redefine the interior of the Palace , at the beginning of the fifteenth century , was built a new chapel wider than the existing ground floor and continues to operate having the ' input from the field . The new environment , built with taste again underlined by the Gothic vaults, had to meet the religious needs of the increased attendance inside the City .

Of its decoration was commissioned Taddeo di Bartolo , one of the most valuable artists who, while falling back on established forms of the great Sienese school of a century earlier, could somehow raise the quality of painting the town, after a period of stagnation susseguito the epidemic plague of 1348 which, in addition to decimate the population , had greatly reduced the client .

Thaddeus realized in the Marian Chapel five stories , from the Annunciation , above the altar , with four great scenes placed on the left wall that depict : The Farewell by the Apostles , The Death of the Virgin, The funeral of the Virgin Mary 's Assumption . The plant late Giotto 's composition does not diminish the monumental character and scenic .

But the peculiarity of the Chapel of the Palazzo Pubblico resides mostly in the preservation of the ' original furnishings , including beautiful wooden choir , carved and inlaid by Domenico di Niccol˛ , between 1415 and 1428 . Dominic took a great reputation by this company , so that after you have done was nicknamed Dominic Choirs .

Even the fence that separates it from the rest of the environment dates back to the period of construction of the Chapel and manufactured by James f¨ of Life, in the 40s of the fifteenth century, perhaps using a previous project by Jacopo della Quercia. The small but precious organ , located on the right side of the ' altar , dating to 1520 approx. and is the work of the organ Giovanni d ' Antonio Piffaro .

The music of the time there is a valuable reference even in times where Taddeo di Bartolo thirty- painted musical angels , each of which plays a different instrument , depicted with an absolute precisionei .

The altar , the work of Marrina , and the beautiful table of Sodom , representing The Holy Family with St. Leonard (1530 approx. ) , Come from the Duomo and were transferred to the Palace at the end of 1600.
STAY

NEARBY
DINING & ENTERTAINMENT

NEARBY