> Home > >
Associazione Corale Polifonici Senesi
Siena
MUSICA E SPETTACOLI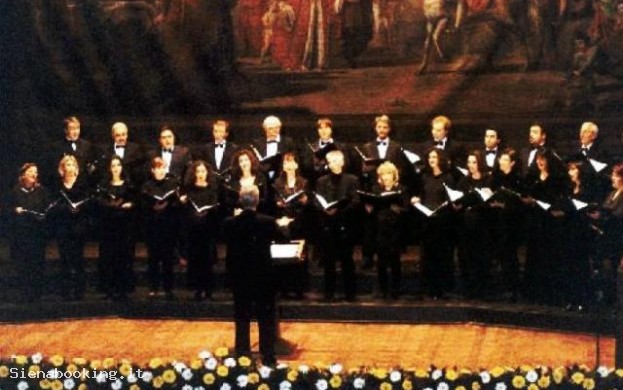 The Polyphonic Siena began their activities in 1983, when a group of young people linked by a common passion for choral music was formed in association for the study and interpretation of the polyphonic music of all time.
From 1987 to 1999 was director of the master Polyphonic Anthony Morelli. Polyphonic Senesi with him in 1991 won second prize at the International Polyphonic City of Stresa. In 1992 they made a tour in Denmark (Struer, Skive, Hostebro, Copenhagen) in 1994 and held the special concert planned in the Tenth Season of concerts of Vivaldi's church in Venice. Also in '94 they won the second prize at the Regional Choirs in Tuscany and in 1995 participated in the National Choral Competition of Vittorio Veneto and finished fifth tie.
As part of a constructive partnership with the Academy Chigiana, in late '95 the Polyphonic went on stage at the Theatre of the Renewed for La Traviata, with the orchestra of the Conservatory of Milan and the soloists of the courses of Chigiana . After the Christmas concert of the Academy, with the Orchestra da Camera di Siena in the basilica of Santa Maria in Provenzano (where among other things have also performed Lauda, ​​who Respighi, in a world premiere in 1930, dedicated to Guido Chigi ), the Polyphonic attended the fifty-Settimana Musicale Senese. On July 9, 1996, in St. Augustine, took part, with the actors, the soloists and the Orchestra Sinfonica Nazionale della RAI, all'Evgenij Prokofiev's Eugene Onegin. On 13 July the same year, the Hall of the Pilgrims, who interpreted sacred and secular music of ancient Siena and, with the Romabarocca Ensemble, performed in concert form the pastoral drama of Augustine Agazzari Eumelus. It was absolute modern re-proposed.
On 31 January '97, in the 74th season in the Summit Academy Micat Chigi, in the basilica of Santa Maria in Provenzano performed Verperae solennes de Confessore, Mozart.
During 1997, the Polyphonic to cooperate for the cultural programs of Radio Television of Germany, by recording the music of the sixteenth and seventeenth centuries in beautiful places in the province of Siena. Currently the choir is made up of professional musicians (instrumentalists and singers) that the enthusiasts for whom the association invests a significant portion of its resources in financing lessons in vocal technique, music literacy and vocal chamber music. From 1999 to 2003 the association was conducted by Silvio Segantini. Since January 2003, the Director shall be the master Raphael Puccianti. The association collaborates with the teacher Elena Mariani as head of vocal training.