> Home > >
040 Tarsia pav. del Presbiterio e Coro - Storie di Davide
Siena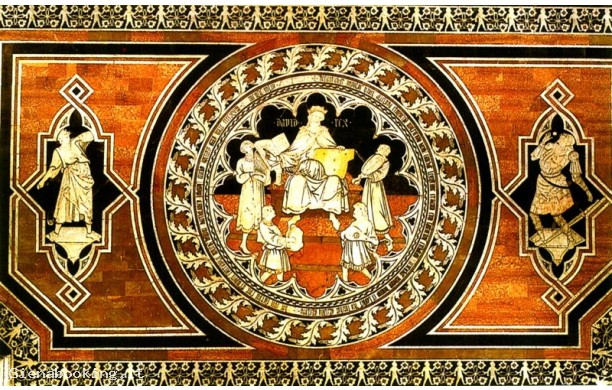 Artist: Domenico di Niccolò dei cori
Year: 1423
Current location: Cattedrale di Santa Maria Assunta
Original location: Cattedrale di Santa Maria Assunta

DESCRIPTIVE INFORMATION
Before the step of the altar is a large tripartite panel dedicated to the figure of King David. On the sides there are two frames mixed lines in which they are representations of David who throws a stone with a sling and hit Goliath by stone thrown by David. It is curious that Goliath has a hole on his forehead, although the stone it has not yet reached and that the latter is at the same time is in the sling of David is suspended in front of Goliath. It is a contemporary representation of subsequent events, typical of medieval art. These figures, surrounded by a continuous strip that creates a complex frame characterized by a very elegant design that Roberto Longhi attributed to Jacopo della Quercia. More probably the frame was created by his pupil Domenico di Niccolò choirs. The practical realization of the inlay was made by a certain course of Sebastian from Florence with the help of the stonemason Augustine of Nicholas. At the same hand is also due to the large medallion in the center, now King David dedicated to the composition of the psalms of an open book on a lectern, accompanied by four children with musical instruments. They are symmetrically arranged on the steps around the king. Along the frame, which is decorated with trefoil arches, there is a long inscription which a hand indicates the point of beginning. All this inlay was restored in 1777 by Matteo Pini, designed by Carlo Amidei.
040 Tarsia pav. del Presbiterio e Coro - Storie di Davide