> Home > >
033 Tarsia pavimentale dell'Esagono centrale - Elia rapito in cielo dal carro di fuoco
Siena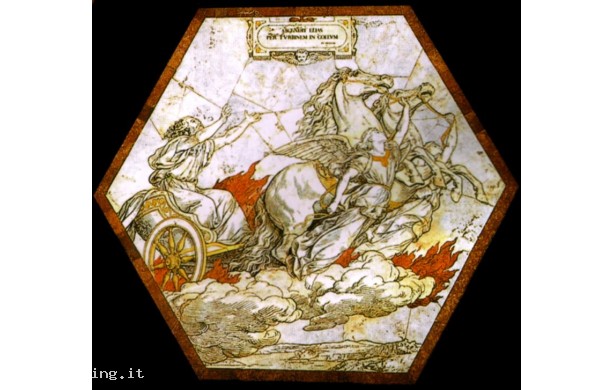 Artist: Alessandro Franchi
Year: 1878
Current location: Cattedrale di Santa Maria Assunta
Original location: Cattedrale di Santa Maria Assunta

DESCRIPTIVE INFORMATION
The conclusion of the story of Elijah is his rapture to heaven in a chariot of fire (2 Kings, 2, 11). In this, as in all the other scenes made ​​more hexes, you can see at the top tables showing the biblical text to further clarification of the events narrated. The chariot, with over Elijah, stands in the flames in the heat of the horses running in the rise and drawn by angels. The Prophet stretched his arms, somewhere between surprise and desire to know the divine essence. This inlay is certainly the most visionary of the scenes imagined by the Franks.
033 Tarsia pavimentale dell'Esagono centrale - Elia rapito in cielo dal carro di fuoco