> Home > >
032 Tarsia pavimentale dell'Esagono centrale - Acab mortalmente ferito in battaglia
Siena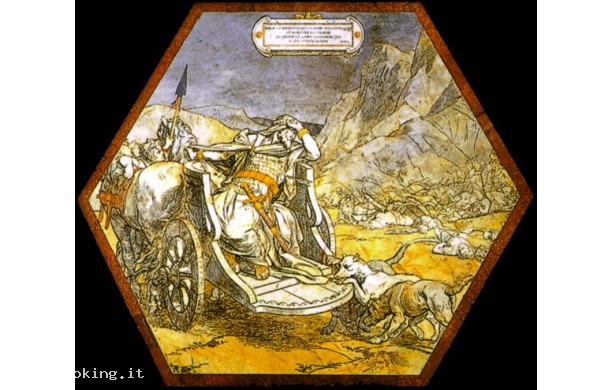 Artist: Alessandro Franchi
Year: 1878
Current location: Cattedrale di Santa Maria Assunta
Original location: Cattedrale di Santa Maria Assunta

DESCRIPTIVE INFORMATION
This shows the hexagon compirsi of prophecy: Ahab, who had tried to blend in with his soldiers, it is struck in the mesh of the shell by an arrow shot at random. Badly wounded, he asks the driver to be taken out of the fray. The scene shows the last moments of the king, while the coach looks desolate the unfolding of the battle. Recite the sacred text, "the king was forced to stay on his chariot against the Syrians, and died in the evening, the blood of the wound was poured into the bottom of the chariot" (1 Kings, 22, 35-38) and dogs are in fact represented while licking the blood flowing. The Franchi is this scene with a balanced use of emotionalism, avoiding tones pathetic that even the theme could inspire.
032 Tarsia pavimentale dell'Esagono centrale - Acab mortalmente ferito in battaglia