> Home > >
015 Tarsia pavimentale della navata centrale - Ruota della Fortuna
Siena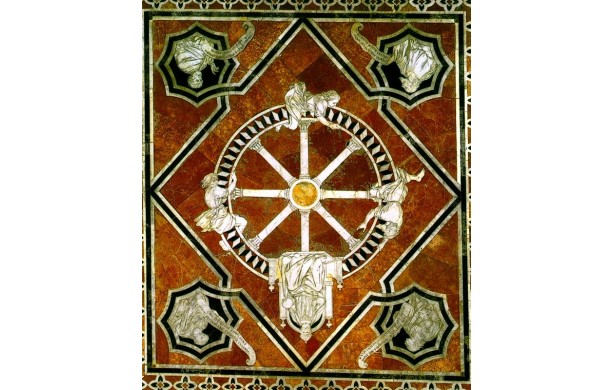 Year: 1372
Current location: Cattedrale di Santa Maria Assunta
Original location: Cattedrale di Santa Maria Assunta

DESCRIPTIVE INFORMATION
The last scene of the central allegories representing the Wheel of Fortune, which the Sienese historian recalls how Tom performed in November 1372. The scene, which is subject to heavy wear and tear due to its location, had been rebuilt in the eighteenth century (as remembered Faluschi) and again was completely replaced in 1864-1865 by Leopoldo Maccari. The subject refers to a subject dear to medieval art, often depicted on the walls of the churches. The wheel represents the human stories, and is depicted as a circle concentric supported by eight columns on the top of which there is a king sitting on a throne, with three figures embraced the wheel to the lower end, left and right. The whole is enclosed by a frame mixtilinear that draws a diamond in the center and four hexagons at the corners, where there is the representation of four ancient philosophers: Epictetus, Aristotle, Euripides and Seneca. Each of them is holding a scroll with inscriptions related to the theme of Fortune. The wheel now has an aspect related to the purism century, which is well suited to the complex of the floor, but its original appearance had to be more expressive, perhaps similar to a similar representation of Domenico di Niccolò in the choir of the chapel of the Palazzo Publico, in where the characters are more satirical moralizing, linked to the motto which indicates the change of fortune "kingdom regnabo, regnavi, sum sine regno".
015 Tarsia pavimentale della navata centrale - Ruota della Fortuna