> Home > >
003 Tarsia pavimentale della navata destra - Sibilla Cumana
Siena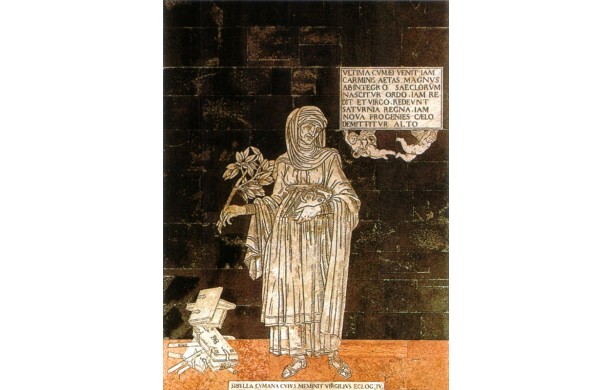 Artist: Giovanni di Stefano
Year: 1482
Current location: Cattedrale di Santa Maria Assunta
Original location: Cattedrale di Santa Maria Assunta

DESCRIPTIVE INFORMATION
The third sibyl, famous for being visited by Aeneas, is the work documented by Giovanni di Stefano, as noted by a payment of 19 July 1482. Mentioned by Virgil in the fourth eclogue, he was famous in the Middle Ages as preannunciatrice the coming of Christ. The registration held by two angels in flight derives from Virgil: last cumaei venit iam carminis aetas magnus intact saeclorum nascitur ordo ab iam Redit et virgo, redeunt Saturnian reigns, iam nova progenies caelo demittitur up ("It's time have occurred the last period the poem Cumae, a large order of ages is reborn, now returns to the Virgin; return the kingdoms of Saturn. Now a new progeny is sent from heaven "). Looks like an old woman of a certain severity, with a veil that surrounds the head. With your right hand holding the mistletoe narrative Virgil, and with the left presses her three books. Six others, the Sibylline Books destroyed in the legend of Tarquin, burn stacked on the ground to his right.
003 Tarsia pavimentale della navata destra - Sibilla Cumana